Film thickness measurement system
The hyperspectral imaging unit works as a line scan camera and provides the full-contiguous spectral information for each pixel. The film thickness is calculated from the spectral information using our unique algorithm, correlation method and FFT method. After scanning full surface of the target sample, the film thickness for all points can be obtained.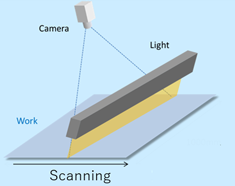 Please refer to this for the compact film thickness monitor with the fiber probe. TECNOS will propose the integrated system with this film thickness monitor.
Characteristics
The system obtains the film thickness distribution in large area in a really short time.
The system has the measurable range: from thin film to thick film, multi-layered film up to 3 layers.
By visualizing the film thickness distribution in large area of the target sample, the problems, such as coating state and/or pattern defects, becomes recognizable intuitively and can be resolved more easily and more quickly.
TECNOS will propose the best solution for your problem.
Application example
Example 1: photoresist layer thickness on a glass substrate
This is a case of measuring the thickness distribution of the photoresist film formed on the gate pattern (measuring pitch: 0.5mm). The right graph shows the film thickness distribution in the red line area of the left graph.

Example 2: photoresist layer thickness on a glass substrate
The thickness of photoresist layer on the Cr-coated glass substrate is 2.0μm. The measured result is shown in the right graph. It is a screen image of a display device.

Basic specifications
Measuring method
white light interferometry
Measuring range
0.1μm~2μm (correlation method),
2μm~15μm(FFT method)
Measuring resolution
1nm
Measuring speed
600 points/second (correlation method),
6000 points/second (FFT method )
Sample size
W 300mm x L 400mm
Measuring width/spot diameter
W 300mm / D 0.5mm
Light source
white halogen lamp 40W x 5 (lamps)
Demonstration test service
TECNOS provides demonstration test service for clients who are planning to purchase or introduce our products in the future. We have our accumulated techniques and know-how through various test services. However, some samples may be unsuitable for measuring film thickness based on the optical interferometry.
Please feel free to get in touch with us.
FAQ
1. What kind of material film can be measured?


A.

Basically, transparent films and semitransparent films are ok. It is difficult to obtain the film thickness of non-transmission films. However, some films have properties of transmitting a specific wavelength. For further information, please contact us.
A film with base pattern can be measured?


A.

In the case of a simple pattern, it is often successfully measured. We have many experiences, film thickness of resist films on TFT patterns, color filter patterns of LCD display, etc.
Is there any problem if a film with photosensitive material is measured?


A.

No problem. When the photosensitive film is measured, we use a light source which removes wavelength under 500 nm.
In order to measure thickness of film, what kind of information do you need?


A.

We need the following information for measurment. If you do not know the specific information, we can guess the value from your film sample. Please feel free to contact us.
1)The refractive index and the absorption coefficient of the target film.
2)the physical property of the film on the substrate: glass, chrome, silicon and so on.
Is it able to measure the film thickness immediately after resist coating?


A.

No, it is difficult to measure such the film thickness which occasionally varies from moment to moment. Measurement after drying (prebake) will be OK.
We have a compact measuring equipment for use of a demonstration test service. This equipment is useful in measuring film thickness, and also it is suitable for the acquisition of the chromaticity and near-infrared spectroscopic data.