Optical characteristic measurement system
Characteristics
Our "FM series" is the optical characteristic measurement system, and evaluates the optical and electrical performance of FPD (Flat Panel Display) modules (e.g. view angle characteristics, luminance, contrast, RGB chromaticity, gamma characteristics, flicker, power consumption, etc.).
This system has distinctive scalability that allows customers to expand the system according to their needs. Customers can build a highly flexible measuring environment at lower cost. The system can be upgraded according to the customer's request.
System outline
The system works with various types of signal generators, and also our signal generator "TS series" can be integrated. The measuring stages will be provided for the efficient customization that is suitable for various kinds of FPD modules and luminance meters.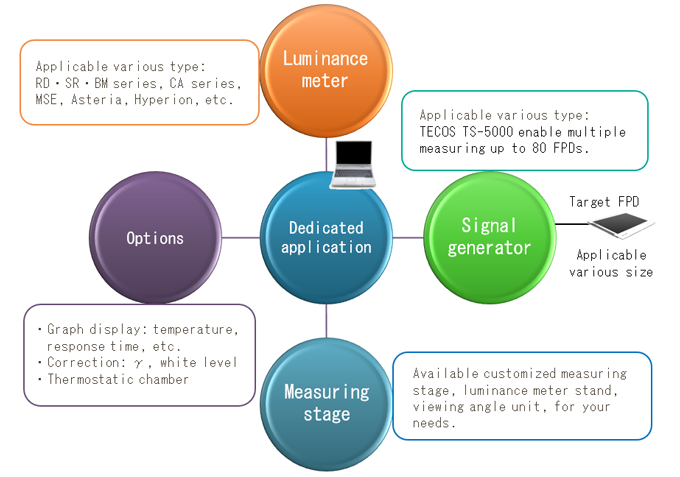 Measuring items
Power consumption
Luminance
Contrast
Gradation properties
crosstalk rate
Backlight luminance
Viewing angle
RGB chromaticity
Response time
Flicker
Others: applicable VESA and TCO99
Measurement conditions and settings are described in a script language. The flexible measuring environment can be built. The measured data is automatically output to Excel format file.
Example of viewing angle units
In order to get the reliable results of the measurement, a measurement stage for mounting light meters and FPDs plays a key role. A viewing angle unit controls rotation movement, horizontal and vertical movement, and automatically acquires the examination data.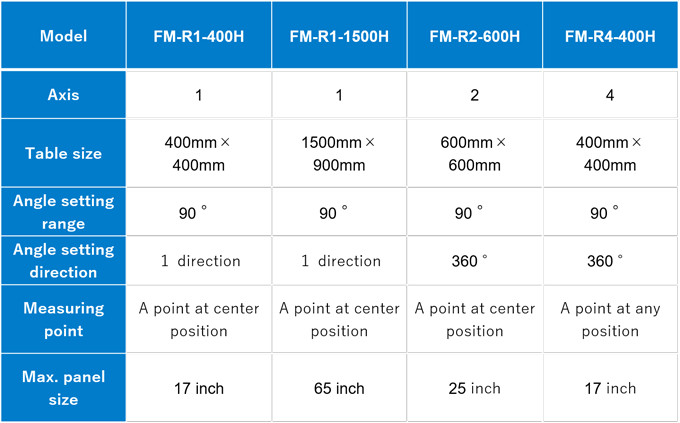 Cases of the works